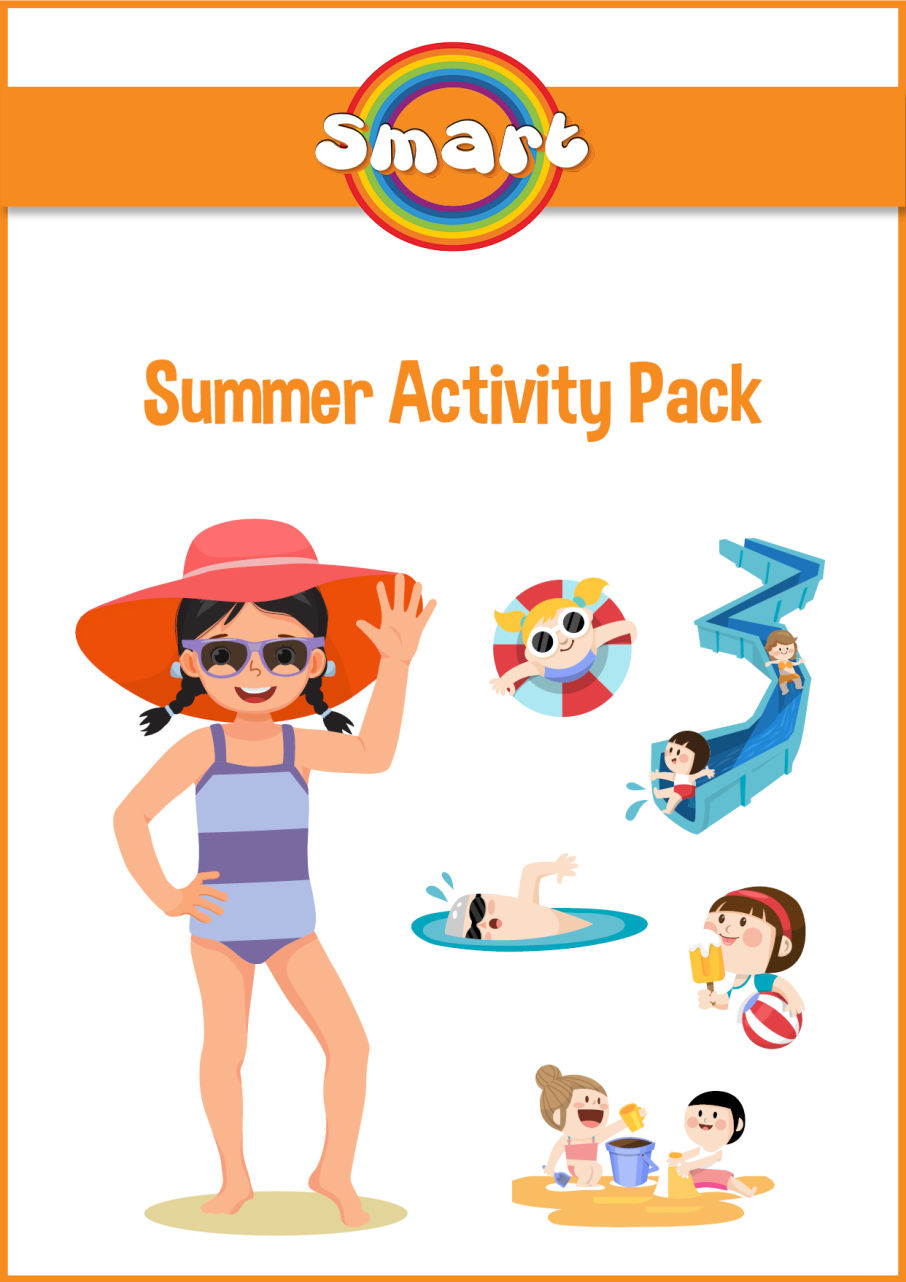 Unlock your summer fun! Complete the form to get your free Summer Activity Pack today!
As the sun shines brightly, children eagerly anticipate the long-awaited summer break, a time for play, exploration, and endless possibilities. To make this summer unforgettable for your little ones, we present the ultimate FREE summer activity pack/worksheets specially designed for children in the UK.
Our exciting activity pack is an all-inclusive entertainment and education treasure trove, offering various engaging activities that will enthrall children for hours on end. Let's take a peek inside this enchanting box of wonders:
Colouring In: Unleash the artist within as children immerse themselves in the world of color. From lively beach scenes to adorable sunflowers, let their imaginations run wild.
Keeping Safe in the Sun:

Teaching children about sun safety becomes crucial as the temperature rises. Through captivating activities, they will learn about the importance of sun protection and how to enjoy the sun responsibly.

Complete the Number Sequence:

Numbers come alive with this delightful activity that encourages children to fill in the missing numbers in sequences, honing their mathematical skills.

Connect the Dots:

A sense of wonder awaits as children connect the dots and reveal hidden surprises in the form of beloved summer creatures.

My Ice Cream Colouring:

Indulge their love for ice cream as they design delectable ice cream cones with a burst of colorful creativity.

Matching – Sun Safety:

Engage their memory and critical thinking abilities by matching sun safety-related items, reinforcing the importance of staying protected under the sun.

Word Search – Sun Safety:

Expand their vocabulary as they search for sun safety-related words in this exciting word hunt activity.

Summer Sums:

Math becomes a delightful adventure as they solve summer-themed math problems, making learning math an enjoyable experience.

Summer Mazes:

Let them navigate through thrilling summer mazes, igniting their problem-solving skills and fostering a sense of accomplishment.

Find the Correct Shadow:

Watch their faces light up with joy as they identify and match objects with their shadows, boosting visual discrimination.
Our activity pack strikes the perfect harmony between fun and learning, ensuring that children make the most of their summer break. Through creative activities like coloring, connecting the dots, and solving mazes, children engage their imagination and fine motor skills, fostering artistic expression.
Moreover, the activities centered around sun safety instill crucial lessons about protecting themselves outdoors, enhancing their awareness of safety practices. Simultaneously, math-themed worksheets sharpen their numerical skills, making the most complex problems seem like exciting puzzles.
Don't let this summer go to waste! Download our summer activity pack/worksheets and infuse your child's summer with joy, learning, and adventure. Watch them bloom with creativity, knowledge, and self-discovery as they embark on this memorable journey.
Remember, learning is most impactful when it's blended with laughter, curiosity, and support. So, dive into the world of our summer activity pack and create cherished memories that will last a lifetime. Happy summer, and happy learning!